Experience & Accomplishments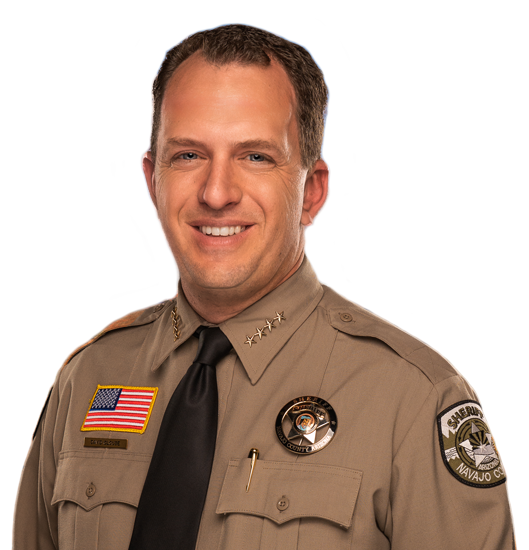 Promises made. Promises kept.
Committed to public safety, transparency, and responsible fiscal management.
Serving the public for over a decade
On February 12, 2019, David Clouse was sworn in as the 18th Sheriff of Navajo County. On November 3, 2020 Sheriff Clouse was re-elected by the people of Navajo County to serve another term as Sheriff and to continue with the many effective changes and accomplishments in carrying out these duties.
David Clouse has generational ties to Navajo County and the Sheriff's Office. David is the grandson of former Sheriff, Glen L. Flake who served as Sheriff of Navajo County for 12 years and in law enforcement for a total of 29 years within Navajo County. David's great grandfather, S. Eugene Flake was also a Deputy for Navajo County in the 1930's and 40's. David and his wife Angela, along with their 4 daughters and one son make their home in Snowflake. They happen to live next door to his 3rd great grandfather's home, William J. Flake, the founder of Snowflake, which is the first home in Snowflake. Making 7 generations who have lived on this block in Snowflake. David's roots to Navajo County run deep.
David and Angela have been married for 16 years and demonstrate a spirit of volunteerism where they are very active within their community volunteering time with their church, youth groups, scouting as well as the schools where their children attend. David has a deep devotion to his Faith, God and Country.
David attended and graduated from Northern Arizona University with bachelor's degree in Emergency management. David is currently attending Arizona State University working on graduate courses. David was hired on with NCSO in 2009 and graduated from the AZ Law Enforcement Academy in Phoenix, AZ. David was named Deputy of the Year in 2011, Promoted to Sergeant shortly thereafter and then Detective Sergeant. Sheriff Clark later appointed David to Deputy Chief.  As Deputy Chief, David oversees Patrol, Dispatch, Training, Criminal Investigations, Property & Evidence, Civil Division and Training. David has had a successful career with NCSO since 2009 promoting and serving in several different functions and receiving hundreds of hours of advanced training in leadership and Law Enforcement practices.
As your Sheriff, David is a Pro 2nd Amendment Sheriff committed to protecting the rights of all citizens within Navajo County. David is honored to have taken the oath of office to protect the AZ and US constitutions and doesn't take this light heartedly. David is and continues be tough on crime holding those who violate the rights and freedoms of others accountable. David feels politics has no business being a part of Law Enforcement and has served as the Sheriff representing all citizens within Navajo County running an impartial office. David works tirelessly to ensure to protect the rights, property and life of all. David is committed to running a fiscally conservative office and operates within the budget set for the office of Sheriff. David recognizes the importance and need to use tax payer's money responsibly and will always put the tax payers needs first.
David takes a strong stance against drug dealers operating within our communities. School safety will also be a top priority within the office. David has said, "everything within the office needs and will be evaluated for areas of improvement". David brings a different perspective to the office from prior Sheriffs. He has been looking to make changes utilizing technology in the way they investigate crimes, respond to calls, document reports and record keeping.
Sheriff Clouse has been working with other departments in the county where they have found ways where they can partner and save money in working together and not duplicating services in our communities.
Sheriff Clouse recognizes the public trust in holding an elected office such as Sheriff. Sheriff Clouse will continue to make sure the Deputies and Detention Officers receive the best training in the state. Over the next four years David looks forward to demonstrating his abilities to lead this department to gain the trust of the public and in the coming years to continue to serve as your Sheriff.
Associations and Partnerships
Member of Western States Sheriff's Association
Member of National Sheriff's Association
Member of Arizona Sheriff's Association
Member of International Chiefs of Police Association
Northeast Arizona Police Association
Member of AZ HIDTA Board of Directors
Associated with Nexus coalition for drug prevention
Accomplishments as Sheriff
Came in under budget during every year in office. Protecting the taxpayer's money running a fiscally conservative office
Reorganized jail budget and jail structure to bring much needed raises to Detention Officers, all while staying within my allotted budget for the jail
Raises for Deputies and sworn staff to be more competitive
Established a Jail District in Navajo County – This reduced cost for local agencies, municipalities and Navajo County for detention services
Partnership with BIA and US Marshal service for detention contracts in Navajo
Sheriff "ALERT" program – Sheriff's Animal Livestock Equine and Recuse Team
HUMV program in the jail – Housing unit for Military Veterans – Helping veterans in custody and upon release as to not reoffend
Reduced costs in jail by not transporting prisoners to court, using Telecom to video court hearings to reduce risks with transports and cost
NCSO Law Enforcement memorial at county complex
Jail Re-Entry Coordinators working in the jail for released inmates
Emergency Radio infrastructure update
Technology advances within in the office for efficiencies
Text to 911 for dispatch center in Navajo County
New Additional Deputy Positions in Navajo County – Have not had new positions in over a decade
Re Direct Program for youth – keep juveniles out of criminal justice system with pre-arrest diversion
Wellness court in Navajo County – Mental Health Court for Navajo County
Citizen Advisory Committee (CAC) improve communication, foster community partnerships, and maintain the public's trust
Mental health treatment accessibility inside the Navajo County Jail
Continue to protect the citizens, protect rural values & families and protect their constitutional rights
Continue to build on our success to make NCSO the premier law enforcement agency in northern Arizona
Homicide
Sexual Assault
Embezzlement
Aggravated Assault
Fraud
Felony